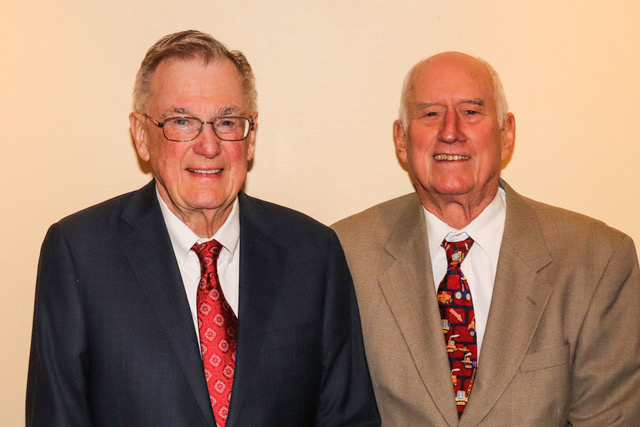 William D. Fletcher (left)  |  Craig B. Smith (right)
For a long time, the scientific community has been increasingly concerned about global warming, the root cause of climate change. For example, in 1988, NASA scientist Dr. James Hansen testified before the U.S. Congress that the buildup of carbon dioxide in the atmosphere was causing the earth's temperature to increase. 
Twenty seven years later, 196 countries signed the Paris Agreement to take action to limit the earth's temperature increase to no more than 2.0oC, and preferably to 1.5oC. Unfortunately, only two small countries are meeting their… 
Bill Fletcher retired as Senior Vice President at Rockwell International Corporation responsible for corporate R&D and business planning. Most of his career involved business planning and international operations for technology based companies. After university graduation, he was an officer and engineer in the Navy's Bureau of Ships working on the design and operation of nuclear powered ships. Following his military service, he was an engineer with Combustion Engineering Inc., involved with the design and construction of commercial nuclear power plants. Bill also held management positions with Bechtel Corporation including an assignment in Saudi Arabia planning the large Jubail industrial development project on the Arabian Gulf. He was a management consultant with McKinsey and Company, Inc. His international experience includes expatriate assignments in Asia, Europe, the Middle East, Africa and Canada.  
After retiring, he became a member of the California Policy Center writing articles on California's economy, was a vice president and director of a group concerned with defense and national security, and served on the Executive Committee of Orange County's Homeland Security Advisory Council. For the last several years he has been conducting research on global warming.
Bill has B.S. and B.A. degrees in Mechanical Engineering and in Government from Tufts University (1962) and is a graduate of the U.S. Navy's Bettis Nuclear Reactor Engineering School (1964).
Craig Smith retired as President and Chairman, DMJM H+N, a large international architect/engineering and construction management firm. Craig's professional career began as an assistant professor of engineering at UCLA, where he was also the assistant director of the nuclear energy laboratory. After seven years at UCLA, he cofounded ANCO Engineers, Inc., an engineering consulting firm in Los Angeles. From 1988 to 1992 he was the president of FSEC, a Los Angeles architecture/engineering/construction firm, then joined AECOM Technology Corporation, one of the world's largest architecture, engineering and construction companies, as a vice president of Daniel, Mann, Johnson, and Mendenhall (DMJM). He was subsequently promoted to senior vice president, executive vice president, and chief operating officer. In 1999, he was named president of Holmes and Narver, Inc. Craig has been broadly involved in the field of energy and power, having worked on nearly every type of electrical generating facility, including hydroelectric plants, geothermal, waste-to-energy, coal-fired, nuclear, natural gas-fired, and solar. 
Craig is the author of over 100 technical papers and articles. In addition, he is the author, editor, or co-author of ten non-fiction books and several novels. Most recently, in collaboration with Dr. Kelly E. Parmenter, he prepared a completely rewritten and updated edition of Energy Management Principles (2nd ed.), published by Elsevier. 
Craig has a B.S., Electrical Engineering, Stanford University (1960) an M.S., Nuclear Engineering, UCLA (1962) and a Ph.D., Engineering, UCLA (1965). He also is a registered professional engineer (nuclear), retired.